Water Heater Replacement
Turn Your H2O into H(ot)2O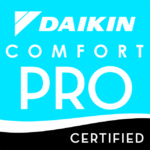 When your water heater is beyond repair, it can make your blood—and your water—run cold. But don't panic. The plumbers at Krinkie's Heating, Air Conditioning and Plumbing are here to help. Our water heater replacement and installation services are swift and dependable, ensuring that your comfort stays above water.
It's Not Always a Good Thing to Keep Cool
Hot water is a home comfort necessity. From the kitchen to the bathroom to the laundry room, hot water is essential when completing daily tasks and keeping you and your home running efficiently and smoothly. So when your H2O catches cold, so does your comfort.
To avoid a household catastrophe, it's important to stay piped into your water heater's wellbeing. This ensures that if your hot water system heads toward troubled water, you will be able to catch the problem quickly, protecting both your comfort and your budget.
Here are the signs that indicate you're close to having your comfort being left out in the cold:
Rusty-colored water
Metallic taste
Lack of hot water
Warm water that quickly turns cold
Frequent need for repairs
Consistent leaks
Noisy operation
Be cautious of your water heater's age, too. After 10 years of operation, your system will begin to lose its heating power and its efficiency, leading to higher energy bills and lukewarm water.
Not-So-Hot Water? Not So Fast.
If you find your water heater's performance going down the drain, don't sweat it. Turn to Krinkie's team for help.
You see, our professionals are homeowners, too. So we understand how important it is for your home to have a hot water system that is capable of meeting your demands without running cold. This means operating a water heater with the appropriately sized tank and sufficient heating power to keep your water hot—from the beginning of the day to the end.
In addition to keeping your water hotter for a longer period of time, our water heater replacement and installation services lead to:
Lower operating costs
Reduced energy bills
Increased energy efficiency
More reliable operation
…And so much more!
With us on your side, we guarantee your cold H2O worries will be water under the bridge.
Contact Krinkie's for a Water Heater Replacement in St. Paul, MN
To heat up the efficiency and reliability of your water heater while saving your budget some cold, hard cash, fill out our online form or call us at 651.488.5555 today!