Air Conditioning Replacement & Installation
Chill Out by Staying Inside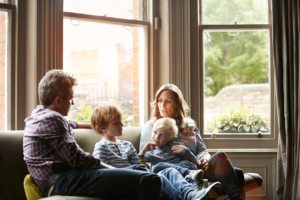 You're determined to get the most out of your cooling system before replacing it with a new air conditioner—and you're not the only one. In fact, this trend is common with homeowners everywhere.
But how much longer are you willing to put up with a unit that is limping along?
At Krinkie's Heating, Air Conditioning and Plumbing, our team understands a new air conditioner is a major investment. But there comes a point when the cost of operating an aging unit exceeds the cost of an AC replacement. When this happens, our team will be there to share our expertise and recommend the best air conditioner for your home—without exceeding your budget restrictions.
A Change for the Better
Every air conditioner eventually needs to be replaced. But there's no set-in-stone timeframe that indicates when this must occur. That's because every system has a different operating lifespan—one that's specific to the home in which it's installed.
But one thing never changes. When it's time to replace your cooling system, it will let you know. The trick is to keep close tabs on your unit's performance. This will allow you to catch any of the following telltale signs that your system isn't operating at its maximum efficiency:
Your unit is more than 10 years old.
It frequently requires repairs.
Your energy bills have consistently increased.
You experience inconsistent temperatures from room to room.
Your unit is making excessive noise.
Keep in mind that, if any of these signs occur, you should consider replacing your system immediately. Operating an inadequate unit leads to higher energy bills, lower system efficiency and a less comfortable home. So stop settling for mediocrity and start striving for the total comfort you deserve.
Reinstating Reliability
You've established your cooling system needs to be replaced. Now, it's time to take action—and the team at Krinkie's is here to help. Our certified technicians have the industry expertise and drive to perform your air conditioning installation flawlessly.
But before installation begins, our team will help you find the perfect system for your home. This is a unit that is the right size and has sufficient cooling power to keep your home chilled, from room to room. You see, finding the right sized unit is critical. An oversized unit is unable to adequately remove humidity from your home's air due to short cycling, while an undersized unit doesn't have the power your home needs to reach the temperature you desire.
At Krinkie's, our professionals are committed to helping you choose the best air conditioner to keep you comfy—in terms of both temperature and budget—all cooling season long.
Contact Krinkie's for Air Conditioning Replacement & Installation in St. Paul, MN
Attaining total home comfort requires two things: a dependable HVAC team and the right air conditioner. As a Minnesota resident, you're in luck. That's because turning your home comfort over to Krinkie's team guarantees both. To experience the difference in the quality of our services and the care of our team, fill out our online form or call us at 651.488.5555 today!