Air Conditioning Services
Been Keeping Cool?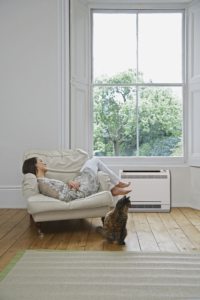 When Minnesota's uncomfortable heat waves roll in, there's only one way to avoid them: retreat to the cool confinement of your home. But attaining and maintaining the comfortable home you crave takes dependable air conditioning services from a committed team.
Well, as a Minnesota resident, you're in luck. The team at Krinkie's Heating, Air Conditioning and Plumbing is here to help you quench your thirst for a more comfortable home. Our air conditioning installation, replacement, repair and maintenance services are designed to enhance the dependability of your air conditioner, lengthen your unit's lifespan, increase your system's efficiency and certify that you never lose your cool—no matter what.
Air Conditioning Replacement & Installation
Whether you're operating an aged air conditioner or you're searching for a cooling unit that better fits your home, we can help. With our air conditioning replacement and installation services, it's a guarantee that you, as a Minnesota homeowner, can beat the summer heat—for good.
Air Conditioning Repair
When the hotter temperatures arrive, Krinkie's team knows how important it is to keep your unit up and running. Thankfully, you can rely on our swift and efficient AC repair services to restore your home's chilled relief before the heated effects of a minor hiccup or a major problem have a chance to set in.
Air Conditioning Maintenance
Say goodbye to high-energy bills, costly repairs and frustration-infused headaches by saying hello to some system TLC. At Krinkie's, our AC maintenance services allow you to enjoy the chilled comfort of your home—without the fear of losing your cool.
Ductless Mini-Split Systems
Cost-effective in approach and reliable in performance, our ductless mini-split air conditioning systems deliver the chilled relief your home needs—without the duct-filled hassle. So take the chance to ditch the ducts for more budget-friendly chilled relief.
Contact Krinkie's Heating, Air Conditioning and Plumbing for Air Conditioning Services in Minnesota
Keep your cool this summer by filling out our online form or calling us at 651.488.5555 today!