Air Conditioning Repair
Need a Repair? We're There.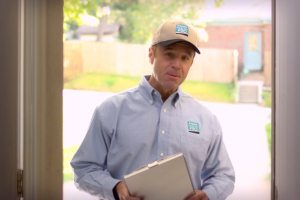 Your air conditioner is your armor against Minnesota's summer heat. But when that protection needs a repair, your cool comfort is at risk.
When this happens, don't retreat. Instead, let the team at Krinkie's Heating, Air Conditioning and Plumbing help you ward off the heat once again. From a minor hiccup to a major glitch, our AC repair services are swift and reliable. This means you can count on our technicians to show up and restore your system's performance before your home comfort—and your budget—is in jeopardy.
Prove to Your System You Care—Get It Repaired
Minnesota's summer weather can be tough on your air conditioner's wellbeing, but it's strength is no match for the speed and dependability of our repair services. You see, when it comes to protecting the cool contentment of your home, speedy servicing is crucial. In fact, the longer you put off repairing your system, the more likely a small problem will escalate into a costly catastrophe. The best way to prevent a severe blow to your budget is to be attentive and proactive with your system's wellbeing. This means paying attention to your unit, taking note of any performance problems and trusting Krinkie's to resolve them.
Some telltale signs that your air conditioner's performance is on the fritz, includes:
It's experiencing operating failures.
It's running, but performing poorly.
It's dripping or leaking water.
It's making strange noises.
Keep in mind that, if any of the above signs occur, it's important to not delay. Instead, reach out to Krinkie's experts right away.
Head for Reliability
Even though air conditioners are built to be durable, it doesn't mean they're indestructible. Luckily, Krinkie's team is committed to keeping our customers comfortable—day in and day out. In fact, we work around the clock to ensure you never lose your cool. So regardless of the extent of the damage or the time of day your system malfunctions, our team of highly trained experts is equipped with the tools and knowledge that's needed to perform a superior AC repair and restore your unit's efficiency.
Contact Krinkie's for an AC Repair in St. Paul, MN
It's time for you to be cool again. Whether your system experiences a minor hiccup or completely breaks down, you can rely on Krinkie's team to restore your chilled relief right away. Just fill out our online form or call us at 651.488.5555 today!