Get to Know Krinkie's Heating, Air and Plumbing
Where Quality Care Meets Superior Craftsmanship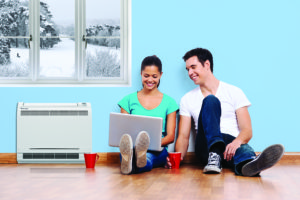 As a locally owned and operated company, Krinkie's Heating, Air and Plumbing has a home comfort advantage. You see, our team members are residents here, too. So we know the weather you encounter on a first-hand basis. Using this knowledge, we equipped our company with the full line of HVAC services Minnesota homeowners need to conquer this state's frigid cold temperatures, intense heat and everything in-between.
For over the past two decades, our company has adapted our services and products to meet industry trends. But there's one part of our company that remains steady—our technicians. Through the innovative changes, our professionals have stuck with us, allowing us to grow from a company to a family. And so we can confidently say that our team is passionate about what we do. In fact, it's our love for all things HVAC that drives us to continuously make a difference in homes throughout Minnesota's communities. So, from an air conditioner installation to a heater repair, having Krinkie's team on your side makes a more comfortable home a guarantee.
Since Krinkie's was built from the ground up, we were able to instill crucial principles into our company's DNA. With us, your satisfaction comes first always. With that being said, our certified technicians will go above and beyond to meet—and exceed—your expectations. This means delivering swift, dependable and trustworthy heating, cooling and indoor air quality services—any day at any time. Yes, that's right. To better suit your demands and to ensure you never lose your cool, our HVAC contractors in St. Paul, MN, work around the clock. When you need us, we'll be there.
We believe you can't put a price on peace of mind. So not only do we offer all of the HVAC services you need to keep your home cozy, but our home comfort solutions are fairly priced, too. This means, from an air conditioner or heating unit installation to an HVAC system repair, our technicians deliver professional-grade services at a budget-friendly cost.
Contact Krinkie's Heating, Air Conditioning & Plumbing in Minnesota
To experience the difference in our company's quality of services and care, fill out our online form or call us at 651.488.5555 today!