Ductless Mini-Split Systems in Minnesota
Ditch the Ducts. Keep the Comfort.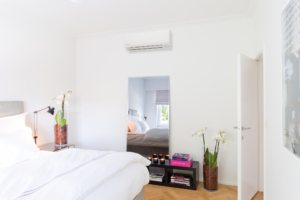 Finding a cooling solution for your home that's affordable but doesn't force you to sacrifice your home comfort can be tricky—that is, until now. At Krinkie's Heating, Air Conditioning and Plumbing, our ductless mini-split AC systems deliver the chilled relief your home needs at a price your budget can afford.
So what are you waiting for? Ditch the ducts and see how our ductless systems can change the comfort of your home forever.
Get Your "Ducts" In a Row
Whether you're looking to replace your inefficient air conditioner or you need a new cooling solution for the ductless room in your home, a mini-split system may be the right choice for you. Small in size and flexible in nature, these systems set the standard for affordable air conditioning.
By eliminating the need for ducts, these highly flexible and cost-efficient systems gain superior zoning capabilities. With a ductless system, chilled relief is delivered directly from the cooling unit itself to the room in which the system is installed. This allows you to cool only the rooms you use, rather than your entire home. Now that's one way to eliminate the loss of operation efficiency, save you some serious cash and help you take back control of your home's comfort.
Deep Breath of Ductless Air
Often, the quality of indoor air can be lower than the quality of outdoor air. When this happens in your home, it's crucial to remove pollutants right away.
Unlike traditional HVAC systems, which help airborne contaminants migrate throughout your home, ductless systems avoid them. You see, by eliminating the ducts, you abolish the airborne pollutants' passageway, too. Even more, ductless systems have an air filtration solution built into them, which drastically reduces dust, bacteria, pollen, allergens and other particulates in your home's air. This leads to improving your indoor air quality. So say goodbye to poor IAQ with a ductless AC system and say hello to a cooler, more affordable and healthier home.
Play It Cool
At Krinkie's, we believe your cooling system should fit your lifestyle—and your budget—rather than the other way around. And we've found that ductless mini-split systems allow you to do just that. You see, homeowners who go ductless are choosing to customize their comfort at a price they can afford. And best of all, when you put your trust in our ductless systems, you're guaranteed to receive flawless services and superior care—day in and day out.
Contact Krinkie's for Ductless Mini-Split Services in St. Paul, MN
Put control of your comfort back into the hands in which it belongs: yours. To see whether a ductless AC system is the right cooling solution for your home, fill out our online form or call us at 651.488.5555 today!